Hospitality services are often overlooked as an important part of our lives. From hotels and resorts to restaurants and event spaces, hospitality services provide a comfortable and secure environment where people can gather, socialize, and enjoy. While many people think of hospitality as a luxurious way to spend money, it is actually a vital part of the global economy. Hospitality services have an extensive impact on the way people travel, eat, and communicate. Anyone who meets and interacts with customers, whether it's a hotel manager or a restaurant server, is a part of the hospitality industry. The hospitality industry is continually growing as its services become more in demand.
In order to be successful in the industry, it is important to understand both the value of hospitality services and the ways to embrace them fully. By doing so, hospitality services can be better utilized to create unique experiences and memorable events. First, it is important to recognize the value of hospitality services. These services are meant to provide comfort and convenience for guests. When people travel to any of the property of Accord Group – hotel or restaurant, they can expect to find a comfortable, welcoming atmosphere and to be able to easily communicate with the staff. We strive to deliver impeccable services and maintain a warm and inviting atmosphere, making our guests feel comfortable and at home. We also offer a wide variety of amenities at our locations, such as Wi-Fi, luxury rooms with modern facilities, and premier dining options. Regardless of whether a person is traveling for business, pleasure, or another purpose, our hospitality services make their experience more enjoyable.
Hospitality services also have social value. They provide a safe and comfortable way for people to come together for celebrations, meetings, and other gatherings. By providing a space where people can socialize and converse with one another in a comfortable setting, hospitality services can bring people together in meaningful ways. At The Accord Group of Hotels, understanding and embracing the value of hospitality has always been at the heart of our service since its inception. Our staff are dedicated to creating a social atmosphere where our guests can come together for meaningful experiences. From corporate meetings to weddings and special occasions, our team of expert planners will work with our guests to bring their vision to life. An unwavering commitment to delivering unparalleled experiences coupled with warmth and understanding has made us stand apart.
Additionally, hospitality services can be used to build relationships. A hotel or restaurant provides a way for guests to connect with staff members and other guests. Customers may return to the same hotel or restaurant again if they felt welcomed and appreciated by the staff. This can have positive implications for businesses as it can lead to repeat customers and referrals. Further, hotels can also benefit from providing hospitality services, as it can lead to more bookings and better guest experiences. That is why at Accord, from corporate meetings to weddings and events, we make sure that we understand the individual needs of our guests and provide them with bespoke hospitality services. Whether it's a corporate dinner or a wedding, our catering services offer our guests the freshest culinary concepts combined with innovative presentations. Our expert team of planners ensures that their vision and requirements are brought to life with top-notch service.
The value of hospitality services is undeniable. However, in order to fully embrace these services, it is important to understand how to use them properly. One important way to embrace hospitality services is by providing quality customer service. Quality customer service can go a long way in creating a positive experience for guests. We make sure that our guests are taken care of properly by our staff, and that they feel welcomed and appreciated during their stay. This includes little touches such as providing a warm welcome, helping guests with any questions they may have, and ensuring that their needs are met.
We also understand the importance of quality time with our guests to plan their events to the tiniest detail and provide them with an experience that will make their day a treasured memory. We have specially-curated offerings for special occasions such as intimate anniversaries, milestone birthdays, baby showers and more. These occasions are no less than a fairytale and we ensure to make them delightful for our guests.
Furthermore, hospitality services should be accessible and accommodating to all guests, regardless of their gender, race, age, or ability. It is also important to maintain a welcoming atmosphere. This means creating a comfortable space that is inviting and inviting to all guests. This can be done by using inviting colors and decorations, as well as providing comfortable amenities. Lastly, hospitality services should be unique and personalized. Every customer should feel as though they are receiving a special experience and that their needs are being valued. Personal touches such as remembering a customer's name, favorite room type, or food preferences can help ensuring that we provide an unmistakable experience on every visit.
In order to embrace hospitality services, it is important to recognize the value they provide for customers, businesses, and the global economy. By providing quality customer service, maintaining a welcoming atmosphere, and providing personalized experiences, hospitality services can be leveraged to create memorable experiences and economic opportunities. By understanding the value of hospitality services, we can use them to make a lasting impact. We also want our guests to make the most of their stay with us while at any of our hotel locations at Chennai, Puducherry or Ooty. Our unwavering commitment to absolute comfort and splendour has resulted in some of the best hospitality services in the region. Our guests can indulge in the rich flavours of South India in the lap of luxury and all the while trust us to cater to their needs.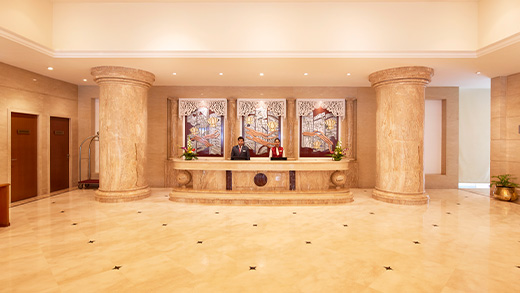 Here, at Accord our hospitality journey has been built on the bedrock of understanding the value that our service provides to our guests. Our determination to deliver extraordinary experiences through warmth and understanding continues to make us stand apart. We are proud of our heritage and the quality of service we cater to and promise to serve it to you with utmost care.
The Accord Group of Hotels' hospitality goes beyond providing comfort and luxury. We understand that creating meaningful relationships with customers is just as important as providing quality services. We strive to improve our services in order to bring in more customers and bolster our bottom line. From offering unique packages for special occasions, to providing unparalleled customer service at our locations, we are sure that our guests will be pleased with their experiences. At The Accord Group of Hotels, we understand the importance of hospitality services and take pride in delivering an extraordinary experience. Our dedication to offering personalized services and quality comfort is evident in all that we do. Whether it's providing the perfect venue for an event, or making sure that our guests feel welcomed and understood, we are firmly committed to delivering unforgettable hospitality services.