Accord Hotels is a brand that has been synonymous with luxury and comfort for years. Whether it's a family vacation or a romantic getaway, an exceptional experience awaits its guests. We believe in providing "Service from the Heart," which is reflected in every aspect of our hospitality. In this blog post, we will take you on a journey through two of the most luxurious hotels in India, Accord Highland Ooty and Accord Puducherry, where you can enjoy the perfect blend of modern amenities and traditional charm.
A Serene Getaway at Accord Highland Ooty
Ooty is a destination that promises to transport you to a world of natural wonder and breathtaking beauty. As you step into the grounds of Accord Highland Ooty, you are greeted by a warm and welcoming staff, who are committed to providing you with the best service possible. The hotel is located in a prime location, overlooking the picturesque Ooty Lake, which offers a breathtaking view of the surrounding hills and valleys.
Accord Highland Ooty offers a wide range of activities for its guests, from cycling around the lake to trekking in the nearby hills. Stop by for Hi-Tea at the quaint Tea Kadai, where you can experience the unique flavors of tea while indulging in healthy snacks and fun activities. For the more adventurous, the hotel offers football, shuttle, cricket, and even ATV rides, ensuring that your stay is filled with excitement and adventure.
Luxury and Comfort at Accord Puducherry
Accord Puducherry is a stunning business-leisure hotel located in the heart of the city, offering a perfect blend of luxury and comfort. This location is known for its beautiful sunsets and scenic views. The architecture is a perfect blend of French and Indian styles, which gives it a unique and elegant look.
The luxurious hotel has a wide range of facilities, including a swimming pool, fitness center, and spa, where you can unwind and relax after a day of exploring the city. The hotel also has a range of restaurants that offer a variety of cuisines, from traditional Indian dishes to international favorites.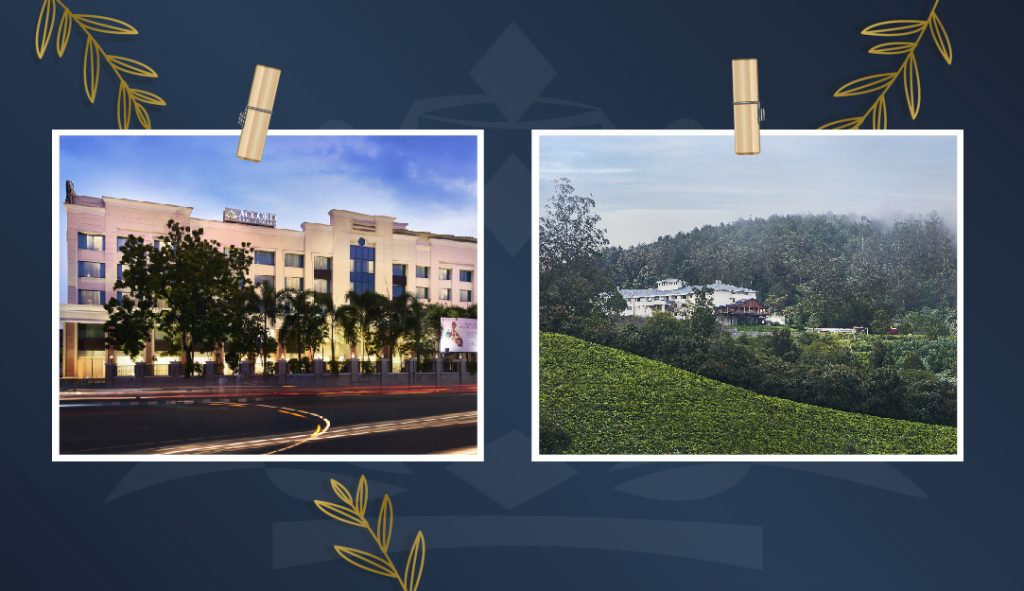 Embark on a Gastronomic Journey with a Symphony of Flavours:
Our chefs have crafted a generous variety of delicacies that are packed with flavors and warmth, providing a feast for your senses. As you soak in the sights and sounds of the city, let your culinary curiosity take you on a gastronomic journey that you won't forget anytime soon. Accord Puducherry's open terrace offers a magnificent view of the city, making it the perfect spot to enjoy a soulful meal and lively conversation with friends and family.
But that's not all; the lounge bar offers a lively and spirited rendezvous that is perfect for those seeking a little excitement. Drop by for an electrifying time in the company of good friends, where our invigorating cocktails and classic light bites are the perfect companions to your conversations and laughter.
Our Brand Promise:
Discover the ultimate indulgence with a tranquil retreat at Accord Hotels, where we promise 'Service from the Heart' and deliver it in spades. Our staff is here to cater to your every whim, making sure that your holiday is nothing short of indulgent. With modern amenities at your fingertips, you won't have to lift a finger except to sip on a cocktail or two. So, sit back, relax, and let us take care of everything. We guarantee you'll leave with memories that will make you smile, even when you're back to reality.
Conclusion:
With our commitment to providing exceptional service, luxurious amenities, and picturesque locations, Accord Hotels is the perfect choice for your next vacation. So, whether you're looking for an adventure-filled vacation or a relaxing getaway, Accord Hotels has something for everyone. Book your stay today and experience the magic of Accord Hotels!