The Accord Group of Hotels provides impeccable service and the best of South Indian hospitality! We ensure that each of our clients has an unforgettable stay with us, offering a range of Premium hotels in key locations for an indulgent escape from city life or the perfect corporate setting for business meetings. Enjoy the unique luxury each of our hotels' offers, combined with the rich flavours of South Indian cuisine. From Chennai to Puducherry and Ooty, let The Accord Group of Hotels envelop you with gourmet flavours of local cuisine!
Across its 4 properties, there are altogether 6 restaurants and 3 bars each catering to more than your tastes – appealing to your delicate sensibilities. Accord Group has the renowned celebrity Chef Venkatesh Bhat as its pillar. The group has partnered with Chef Venkatesh Bhat to offer guests a unique experience of gourmet cuisine with a variety of regional specialities. From traditional Indian cuisine to modern-fusion fare, Chef Bhat's dishes are sure to please any palate. In addition, the restaurants and bars offer a wide selection of handcrafted cocktails, fine wines, and craft beers. Accord Group is dedicated to delivering a one-of-a-kind dining and entertainment experience that is sure to leave you wanting more.
Accord Metropolitan
Located in the heart of Chennai, Accord Metropolitan offers a modern stay experience just minutes away from the city's bustling downtown. From here you can explore the charming streets of the city, or take a quick trip to the beach for a refreshing break from the urban hustle and bustle.
The Brick Oven
At Accord Metropolitan's The Brick Oven, gourmet dining is taken to a whole new level. From hearty breakfasts to tasty soups, pizzas, Indian gravies, and irresistible sweet carvings, the menu offers a tantalizing exploration of American, European, and Indian cuisines. And for those looking to keep it healthy, there's a selection of popular detox beverages, perfect for satisfying your cravings in a guilt-free way.
Royal Indianaa
At Royal Indianaa, experience the splendour and grandeur of Indian cuisine like never before – but with a twist. Vegetarian, to be exact. With its set menu options, prepare to embark on a gastronomic journey across India, where your tastebuds will be tantalised by a variety of delicious vegetarian delights. From starters to mains, this fanfare of flavours is sure to leave you with a newfound appreciation for Indian cuisine.
Zodiac
This February, why not head over to Zodiac for a night of star-studded fun? With shimmering lights, a towering beverage menu, and plenty of promotions, you can have the ultimate Miami-style night out. Unwind with unlimited Tequila, Brandy, and special bottle prices, or show off your singing skills at the Karaoke nights and Salsa Night. Come and get aligned with your drinks this February at Zodiac!
OPM 2.0
With stunning views of the city, delicious drinks and food, and an atmosphere that's both vibrant and relaxed, OPM 2.0 is the perfect place to kick back, relax, and take in the sights and sounds of Chennai. The drinks menu here is sure to please even the most discerning of palates. From wines and beer to speciality cocktails, there's something for everyone. For those looking to indulge in a bit of food, the menu features Asian cuisine. From hearty entrees to flavourful mains, the selection is sure to hit the spot. A mix of lively music, friendly conversation, and the occasional laughter of strangers make OPM 2.0 a great spot to relax and enjoy a drink with friends.
Accord Chrome
For the business and medical traveller to Chennai, Chrome is the perfect choice. Located conveniently close to the airport, it exudes a unique European charm with its elegant façade and tranquil garden setting – ideal for a memorable and peaceful stay.
Gardenia
The Gardenia restaurant is the hotel's pride and joy, offering a medley of cuisine to suit every taste and every whim. Whether you're in the mood for a midnight feast or simply a late dinner, you'll find something to satisfy your craving at Gardenia.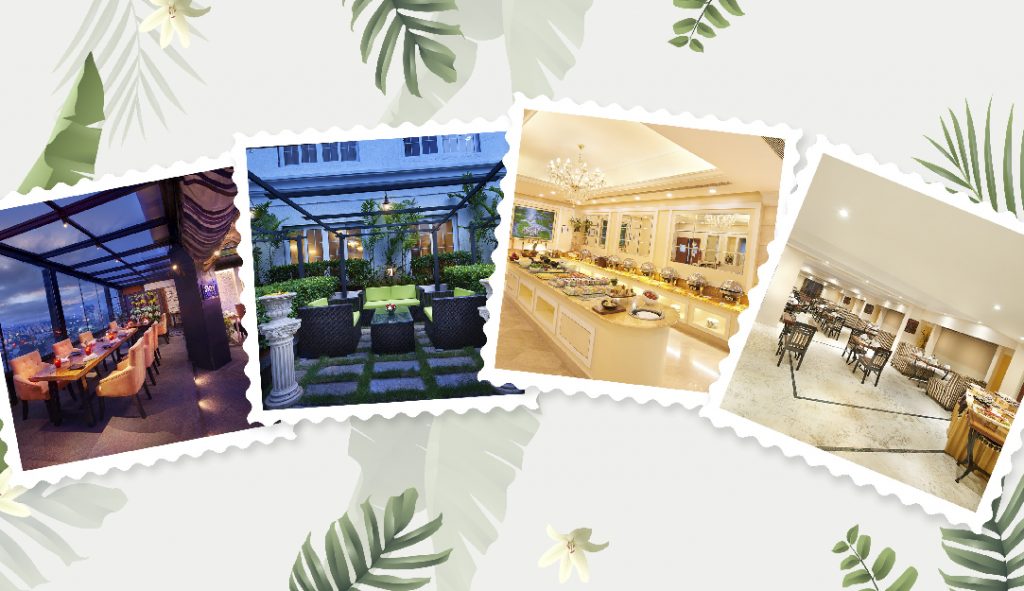 Accord Highland Ooty
Set in the highlands of Ooty, the property is all about breathtaking views. The food will equally take your senses to the next level. It houses a multicuisine restaurant – 'Season' and a bar 'Zodiac'. The highlight is its tea-shop called 'Tea Kadai'.
Season
Set against the breath-taking backdrop of the mountains, the multi-cuisine restaurant at this luxurious resort offers a truly unique culinary experience. With its diverse range of gourmet dishes from around the world, the restaurant is the perfect setting for an unforgettable meal. From the succulent steaks and fresh seafood of Western cuisine to the bold flavours of Eastern delicacies, there's something to satisfy every palate. The restaurant's signature dishes are especially noteworthy, as they bring together the best of both worlds, combining classic flavours with creative twists. Not to be missed are the homemade desserts from the in-house bakery.
Zodiac
A perfect place to enjoy exquisite liquors and lip-smacking finger food is Zodiac set in the heart of a majestic mountainous resort. Highlights of the bar include the classic cocktails and the rare blends, along with its delicious finger foods like pizzas, sandwiches, salads, and burgers. The ambience of the resto bar is also something to behold, with its cozy couches, chic furniture and dimly lit atmosphere, it is the perfect place for a romantic night out or a chilled-out weekend.
Tea Kadai
For those seeking a truly authentic experience, the quaint 'Tea Kadai' in the hills of Ooty is the perfect place. From the moment you step inside you are surrounded by the soulful beauty of the resort, with the soft breeze caressing your face as you sip on a steaming cup of chai. The shop features a rustic charm with its traditional wooden furniture and cozy atmosphere, while the views of lush greenery and rolling hills outside the window create an idyllic setting. Here, one can find a range of teas, from traditional masala chai to tea blends with special herbs and spices. Guests can also indulge in freshly prepared snacks like samosas, bajjis and other savoury delights.
Accord Puducherry
The first of it's kind business-leisure hotel in the Indo-French cultural district of Puducherry, Accord Puducherry is a different feel altogether. It serves multicuisine at Season restaurant while Zodiac, its bar beckons you to unwind yourself without a reason.
Season
From classic Italian pasta dishes, to savory Indian curries, this restaurant has something for everyone. The atmosphere is vibrant and inviting, with bright colors and a cozy atmosphere. Guests can enjoy a selection of international wines and beers, as well as specialty cocktails crafted by the restaurant's expert mixologists. The restaurant also features a number of vegetarian and vegan dishes, making it a great choice for everyone. To top it off, the restaurant offers a unique Sunday Brunch, featuring delicacies from around the world. Make sure to stop by the global cuisine restaurant the next time you're in Puducherry for a truly unforgettable experience!
Zodiac
At the Zodiac bar in the chic business-leisure hotel in Puducherry, you can experience the unique flavor of India's culture and cuisine. Located in the heart of the city, this bar offers an array of delicious international and traditional dishes. The ambiance of the bar is a perfect blend of traditional and modern, with comfortable seating and cozy lighting. Enjoy a relaxing night out with friends, or a romantic night for two. The Zodiac bar is the perfect place to enjoy the best of Puducherry.
When it comes to luxury accommodation and world-class dining, The Accord Group of Hotels is the place to be. Whether you're looking to savour the traditional flavours of India, or tantalize your taste buds with a modern-fusion feast, you'll be spoilt for choice. And to top it off, a generous selection of handcrafted cocktails, fine wines and craft beers create a truly unforgettable culinary and entertainment experience that will keep you coming back for more.