It's been an exciting month at Accord! We've had a series of stunning events, offers, and experiences that have made December 2022 a month to remember. From holiday parties to festive decorations, here's all you need to know about the wonderful activities we've been up to this month and all that's yet to come in the holiday season right up to New Year!
All our hotels have so far had an eventful December, with all sorts of guests, from foreign tourists to business travellers. We've enjoyed seeing our guests enjoy the festive season and all the organised activities.
At Accord Metropolitan and Accord Puducherry, the festive season set in as early as mid-December. While at Metropolitan we had Christmas hampers set up for sale, Puducherry property saw the beginning of the kids' Christmas carnival, 'ChildmaX Carnival'. A fun fest for 18 days (starting 15 Dec to 1st Jan 2023) filled with lots of games, and loads of entertainment like arcade games, live carnival food stations, chocolate fountains, face painting and other enticing activities.
At the Metropolitan, Santa visited us early and so we organised a special Brunch to mark the beginning of the Christmas festivities. The Brunch menu was offered at 'The Brick Oven' restaurant where we had set up a kids' counter with unlimited mocktails and gave out discount vouchers. A close-up magic show was organised that had the kids filled with wonder and curiosity. They were eager to try figuring out how the magician did the trick and eventually cheered and laughed when the trick was complete. We hope that the children left the show feeling enthralled and amazed, and would be talking about the tricks for days to come.
There was also a dedicated kids' play area set up and was one of the highlights. Children were thrilled to have a dedicated area during their visit to restaurant. A kids' area gave them a place to relax and enjoy themselves while their parents ate. It included toys, board games, puzzles, and other fun activities.
From the 19th to 23rd we are hosting the Christmas Carnival buffet that's surely going to be a blast!
The Bonfire nights at Highlands, Ooty since long have known to be a treat for all. The breath-taking views of the Nilgiris, the crisp air and the endless stars in the night sky make for a romantic evening. The bonfire burns brightly and everyone warms up around it, taking in the amazing sights. We roast marshmallows, or just sit and sip hot chocolate. The conversations and laughter that ensue are sure to make the night memorable. With the hills in the background and the music playing, it's an amazing sight to behold. This festive season we just made sure that the evenings end with a wonderful feeling of peace and contentment, making it a night to remember. Now, wouldn't you want that? All this month we are having these bonfire nights, and you must visit us to cherish those moments.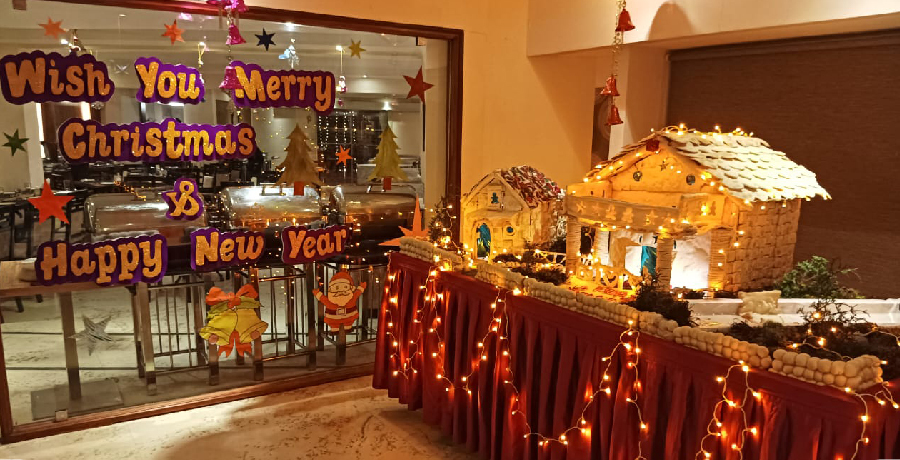 The delightful Christmas hampers by Metropolitan filled with delicious candies and confections, handcrafted by our chefs, are perfect for any holiday celebration. Each hamper is packed with goodies such as premium quality Christmas chocolates, wines, mince pie, Dundee cake and Plum pudding. To make the hampers extra special, the hotel has also included a selection of festive decorations and a colourful festive bow. These hampers are sure to add a special touch to any festive occasion, making them the perfect gift for family and friends. So don't miss out on the chance to treat your loved ones to a little extra festive cheer this season with these beautiful Christmas hampers.
To add to the festive cheer, we curated a special confectionery menu – 'Gingerbread House' which is an array of sweets, cakes and cookies to welcome the warm season of festivities into your life.
It's been a pleasure to welcome so many different people to our hotel and to see them all enjoying the various activities we've organized. Our staff has worked hard to ensure that every guest feels special and taken care of.
What's a December without offers and so we offering discounts all through the month on room tariffs at our Accord Puducherry property. The festive season is all about getting together with friends and family. So, to make it more enticing, we are also offering discounts at our lounge bar Zodiac. Bring 4 of your friends and relax through the evenings.
As we move towards the end of the month, we're looking forward to the Christmas and New Year festivities that are just around the corner. We have special Christmas offers for our guests, including on-going special discounts on rooms, meals and activities.
At all our properties – Metropolitan, Chrome, Ooty and Puduchefrry we are offering Christmas Eve buffets, Christmas buffets, New Year Eve buffets and New Year Buffet.
The Christmas and New Year Buffets are just an excuse for us to offer a variety of delectable dishes to guests and visitors in order to celebrate the festive season. The buffet menu includes a variety of traditional dishes from all over the world, as well as special dishes made just for the occasion. The buffet also offers a wide selection of desserts, snacks and drinks. The buffet aims to provide guests and visitors with a memorable and enjoyable experience while celebrating the occasion with friends and family. It also offers a chance to sample the local cuisine, as well as international fare. The Accord buffets are an excellent way to enjoy the festive season and make some special memories.
From the peaceful atmosphere of a luxury hotel to the exciting amenities, there are many benefits to be had. Whether you are looking for a relaxing getaway or an adventure-filled holiday, a stay at any of our Accord Hotels can provide an unforgettable experience. We invite you to come and experience all that our properties have to offer. From spas and swimming pools to delicious cuisine and excellent service, we guarantee you'll have a memorable time. So don't wait, book your stay with us today to enjoy a unique experience, and Merrier Christmas and a Happier New Year.