Happy 2023! It's a new year filled with new opportunities and new possibilities. So celebrate your first getaway of the year with us at Accord Hotels & Resorts!
Travelling is one of the joys of life. Visiting new places, experiencing new things and enjoying new food. The journey of a thousand miles begins with a single step. So, pack your bags, prepare your travel playlist and set sail on an unforgettable adventure across South India! Go on a road trip to Puducherry and revel in the French beauty of this quaint town – forever teetering on the cusp between the past and the present. Or traverse across the hills and breathe in the crisp fresh air on the verdant slopes of Ooty.
Or make a trip down to Chennai, where the culture is rich, and the climate is oh-so-ideal. There's plenty to see and enough culinary pleasures to savour! Oh, and don't forget to book your stay at our Accord properties in Puducherry, Ooty and Chennai to make your travel even more delightful! We are here to turn your vacation into an extraordinary experience, staying true to our brand promise of 'Service from the Heart'.
Puducherry – The Paris of the East:
Romance describes Puducherry in a way few words can. From the enchanting beaches to the French architecture, Puducherry is one of those few cities that feel frozen in time. This former French Colony retains the charm and allure of its rich history, with steps taken to preserve its culture and heritage.
Take Auroville, for example! Auroville, also known as the City of Dawn, was created with the clear idea of creating a township of diverse humanity. Its unique perspective on unity and humanity makes it a one-of-a-kind project celebrated by people worldwide and one of Puducherry's most famous tourist destinations!
If the call of the open shores is more to your taste, fret not! Puducherry's gamut of beaches invites you for a day of fun! Promenade along the shoreline and soothe in the serene stillness of the calm ocean waters. Or watch the sunrise over the beautiful horizon at Rock Beach. The possibilities are endless!
For those history buffs who want to absorb Puducherry's rich heritage, White Town is the place to be! Streets lined with quaint French architecture in an enticing array of yellow and white buildings greet you as you walk down the boulevard. It's a slice of Paris right at the heart of Puducherry.
The endless array of restaurants in the city is a treat for any foodie. Satiate your inner food connoisseur by visiting the many cafes and resto bars across Puducherry's landscape. Don't forget to polish your meal with some delicious gelato!
There's so much to do in Puducherry. But, of course, you will need a place to stay as you traverse the exciting city. And that's where we come in. Welcome to Accord Puducherry, Puducherry's first business-leisure hotel. Inspired by the French architecture that this city is famous for, Accord Puducherry invites you for a stay so luxurious that it will make you want to never leave the hotel! Lavish rooms, impressive facilities and impeccable service are what await you at our premium hotel. So, drop your bags off at Accord Puducherry and freshen up for a day of travelling and feasting!
A trek to Ooty, The Queen of Hill Stations:
Fresh air and sprawling green cover every inch of Ooty's mountainous terrain, projecting an aura of heavenly peace. Oh, it's such a wondrous break from congested city life, the climate a welcome respite from the unforgiving humidity. So, beat the summer heat with a trek up to The Queen of Hill Stations.
Nature lovers, this one's for you! The Botanical Garden in Ooty, home to over 650 species of flowers and trees, is a splendid sight for sore eyes, spreading over 55 hectares. Verdant foliage and vibrant flowers fill your senses as this beautifully landscaped garden bewitches you.
Who can forget about the Toy Train ride in Ooty? Traverse through the UNESCO World Heritage Site on a 46km journey across the picturesque valleys, tunnels, bridges, slopes and rich flora of the Nilgiri Mountains.
For adrenaline junkies who want a thrill, Ooty offers a myriad of trekking trails. From easy to moderate to complex, there's a trail for all trekkers! So, grab your backpacks, tighten your shoelaces, and climb your way to the top. Happy Trails!
But first, before you decide on your itinerary for the trip, book your stay at Accord Highland Ooty! Our lavish property in Ooty makes for a wonderful stay, with state-of-the-art facilities that inspire a vacation of wellness and serenity. Our villas are the crown jewel of Accord Highland Ooty, with the red cherry wood personifying the feeling of staying in a whimsical cabin in the woods, supplemented by the gorgeous view that lays just beyond the Villa's many windows.
The Tea Kadai at Accord Highland Ooty is a unique feature that welcomes people to enjoy a cup of hot chai to combat the chilly weather. Nothing like masala tea to put some spring in your step and some colour on your cheeks!
Ooty has long been a favoured vacation destination for people looking to escape the sweltering heat and bustling crowd. It's the joy of being surrounded by wilderness – a striking reminder that nature persists above all else.
Chennai – Gateway of South India:
Chennai – what more can we say about Chennai. There have been movies, songs, poems, books, etc., dedicated to the beauty of this immortal city and its ever-vibrant culture. The aura surrounding Chennai is different; the people – kind, the culture – a perfect blend of modern and traditional, and of course, who can forget the food!
Affectionately dubbed as namma Chennai, this city's inhabitants are loyal to their hometown, and with good reason! With so much to do and so many places to visit, Chennai is steadily climbing up India's tourism chart!
The magnum opus of Chennai is, of course, Marina Beach – the second-longest beach in the world! Always bustling with people, this beach is a marvellous sight for tourists and natives alike. Mouth-watering food, young couples taking a walk, kids playing cricket, people jogging alongside the shore – this beach captures Chennai's essence in its truest form.
Museums, zoos, crocodile parks, churches, temples and much more cover Chennai. So, it's best to draw up a map to ensure that you cover every place on your list.
Our two properties in Chennai, Accord Metropolitan and Accord Chrome, offer a well-deserved respite for travellers. Accord Chrome, with its strategic location just 15 minutes from the Chennai Airport, acts as a pitstop for those who want to freshen up and catch a quick bite before heading out for a day of travel. Return to our hotel after a tiring day and slumber into a deep sleep on our plush beds. Our luxurious rooms welcome you to spend your days with us, surrounded by opulence and grandeur.
On the other hand, Accord Metropolitan is located in the heart of Chennai, right in the middle of all the fun and excitement. Situated in T. Nagar, the central shopping hub of Chennai, Accord Metropolitan stands tall in its regal opulence, ushering you in for a good time. Our rooms are comfortable, that's true, but our facilities are even more impressive. Especially our restaurants!
Relish the irresistible Italian and Indian fusion at The Brick Oven. Chicken tandoori or wood fire pizza – it's an impasta-ble situation. If Indo-Chinese is more to your speed, check out OPM 2.0, which takes rooftop wining and dining to new heights. Finally, for the pure vegetarian enthusiasts, savour a royal feast at Royal Indianaa. Headed by CEO of Accord Hotels & Resorts and celebrity chef Mr. Venkatesh Bhat, we can never go wrong in taste or flavour!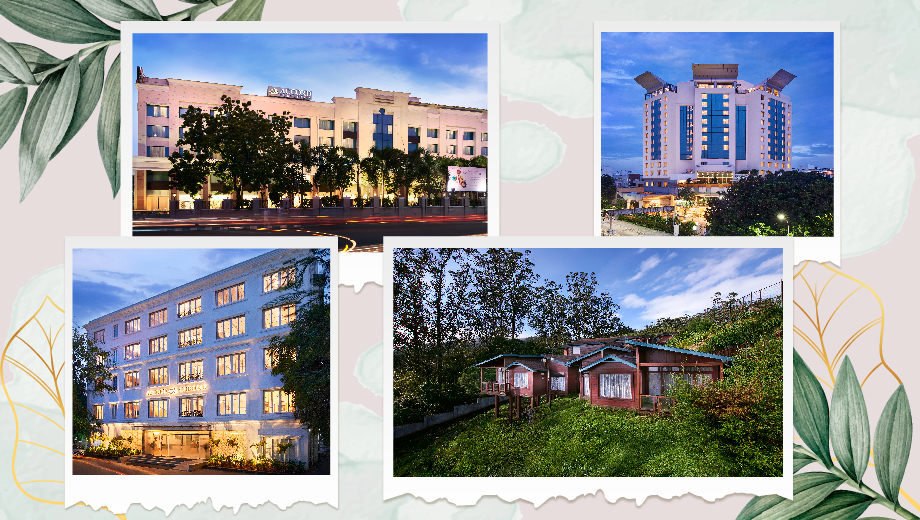 It's vacation time – the only question is where:
And now, all you have to do is choose which place you want to spend your vacation and book your stay at our Accord properties in that city! We can guarantee that you will return to your homes undecided on which was better – your vacation or your stay at Accord Hotels & Resorts.